Our website is under construction, our work continues : here's our latest article on the Rallye des Gazelles 2021
If you are silent on a just cause, those who are in the wrong to think that they are right. Do not give them this opportunity the next time.
Le 30e Rallye des Gazelles : du 17 septembre au 2 octobre 2021
Works wonders for free on biodiversity disarmed
Plant Sbet crushed by a wheel
Lizard Boubreis camouflaged and praying that it can be avoided
When crushing plant, it can not scream, she can't defend herself, she can't escape, but it is the earth that cries !
And what about the camels who more, carrying, running in all directions, terrified by the helicopter filming the exploits of gazelles from all angles.

On 28 September, the camels panicked and disbelieving at the Rallye des Gazelles
Sacrilegious : UNESCO is part of the sponsors of this 30e Rally of shame, hopefully without his knowledge and that this venerable institution is ressaisisse !
Au Sud du Maroc, on a l'habitude de cet événement annuel, depuis 30 ans : on baisse les rideaux pour laisser les « Gazelles », à deux pattes et une tête inconsciente, se défouler l'espace de 10 jours, à travers le plus beau désert du pays. Quid des pâturages, rares, traversées par une orgie de 4×4, de Quads et survolés par des hélicoptères pour filmer l'exploit des « Gazelles » ? Quid des espèces (humaines, animales et végétales) qui vivent dans cet espace, en parfaite harmonie, depuis des siècles ? Le parrainage des uns et la complaisance des autres peut surmonter ce sacrilège, pensent-ils… Pas cette fois, on l'espère !
Always the same old same old : this annual event is considered by its organizers as the quintessence of the founding values that are : " The courage, to challenge oneself, loyalty, support and commitment to the environment and solidarity. "says its President and ceo, with aplomb !
Ah, this flagship event is considered as a showcase of Morocco to the Jet-Set women, moreover, to experience a thrill and to share it with the entire planet !
A time where we come together to "Respect the environment" and "sustainable Development" in all the sauces, and in all the time (and tones), the Rally of the gazelles is distinguished with the label "environmental Ethics" or rally of its own. Better, the organizers will exhibit the ISO 14001 certification, ensuring compliance environmental... Not least (sic). It's the fireman, with all the labels of respect, solidarity and protection of nature, which turns into a pyromaniac. We call it : self-transcendence ! Rather, the exceedance of the threshold of the stupidity and disrespect.
Let's go back first to the facts found in the field (photos and video available) :
September 28, 2021, around 13: 00.
Venue : pastures of the Hamada du Draa, 10 km South-West of m'hamid
Evénement : Rallye des gazelles, avec 60 à 80 véhicules 4×4 et Quads, plusieurs camions d'assistance et logistique-. Un hélicoptère aiguilleur, une équipe de plusieurs journalistes de chaines TV couvrant l'événement…
The concept of this Rally poses a problem : it gives all the freedom to the participants to ride as they wish, without respect for the natural environment in which they operate. Where they burst on to pastures, near the bivouacs nomads survive in this region. If you add the helicopters and their roar, the demonstration takes on the look of a disaster on the biodiversity of livestock and camels, in particular. We can speak of " environmental crime ", in the face of flora and fauna, disarmed !
The crime could have been perfect if it were not for the vigilance of a shepherd with his laptop that was able to capture a few shots of this crime. This same shepherd a shout out to a leader of the Rally (see the report of race, September 28, between 12: 00 and 14: 00). The said responsible, uncomfortable, has promised the nomad that he will follow his grievances over the top. The nomad told her that he shall not seek any form of compensation or apology, but hope that these Rallies devastating refrain to go through their pastures.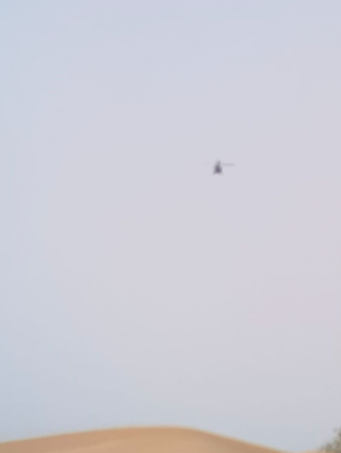 Le 28 septembre, à 13h05, les 4×4 du Rallye occupant l'espace abandonné par les chameaux ! C'est la signature du « Rallye solidaire !»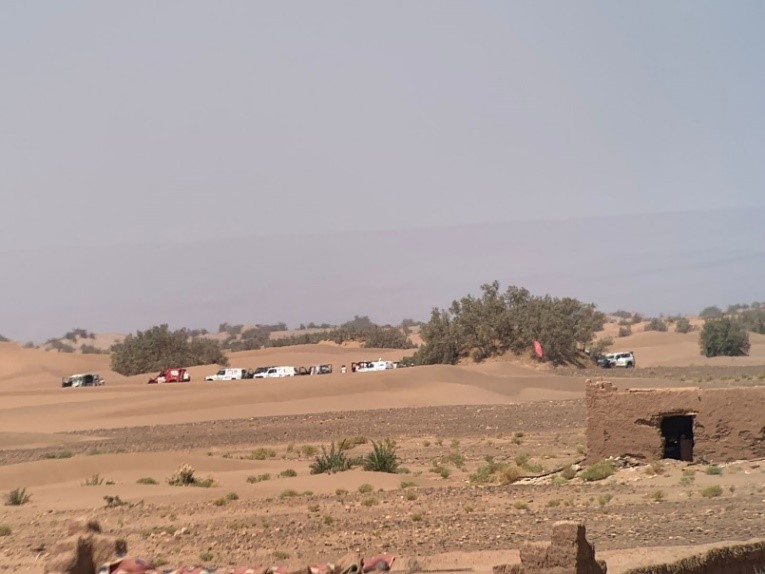 Ce scénario s'est répété dans plusieurs endroits, durant plusieurs jours, entre M'hamid et la zone d'Iriki. L'épilogue et la récompense des « nouveaux prédateurs de l'environnement » a eu lieu sur les plages d'Essaouira, le 2 octobre, dans une ambiance féérique… On a dit : Self-transcendence. Qu'en pensent les chamelles affolées par une orgie de bruit et de poussière et dont certaines auront une fausse couche dans quelques semaines… La faute au défoulement des « Gazelles », d'une autre espèce (protégée, celle-là !).
The Association Zaila, a pioneer in the defense and protection of the natural environment of the desert will enter the international NGOS working for the preservation of the biodiversity of the desert and the view mode nomade, threatened by drought and climate change, but, more seriously, by human stupidity, through Rallies, and other events of the Desert-Business.
Don't worry Ladies, the Association Zaila, with other NGOS, has denounced the first rally, the Dakar. Our message is consistent. It is not against you, it's not against anyone. No, it is for the protection of an environment as beautiful and fragile, as are the plants and animals of the desert to which you do not pay attention. These species are more useful to man than the opposite, however.
Has your discharge, the Dakar has also been there and packed up, several years ago, to go wreak havoc elsewhere, in more than 60 victims, most of collateral according to the established formula.
At the time of the calls are multiplying around the world, to come to the bedside of a planet suffering from the excesses of human activities, harmful (as is your Rally), it is time to revisit your priorities in terms of leisure and consumption, especially when they contribute to an imbalance in biodiversity, essential for everyone.
Please note that a document is to be presented to the actors of the COP26 in Glasgow on the threats to the biodiversity of the desert. An illustration factual and objective of what happened on September 28, there will be refused. A note will be sent to the UNESCO and ISO, to abuse without their knowledge.
In the name of the Association Zaila and in the name of all the species of the desert, I address my disgust of the most sincere to all the organizers of the Rally in the desert (and not only the Gazelles, I said). Count on us to be there to prevent the recurrence of future events-predators of an environment disarmed...
Réflexion : Pourquoi l'homme se donne-t-il autant d'importance sur cette terre ? Malmené par les courants, tel un grain de sable, il ne maîtrise, en réalité, que peu de choses, se réfugiant, par confort, dans des « certitudes ». But on n'avance pas à partir des « certitudes », la dynamique du doute pourrait être plus salutaire. Le confort endort et le doute réveille, à condition que la lucidité l'emporte sur le désarroi !
Mohamed Ali Sbai